Useful Information
Your Scout Group is the 1st Crookham and is part of the Odiham District.
Our Group Scout Leader is Mark Medler
Weekly meetings are at our Den in Basingbourne Woods, Basingbourne Road, Church Crookham, Fleet (Tel: 01252 623051 – unattended)
Necker (scarf) Colour: orange and Scout green halves. The group will provide neckers, woggles and all badges.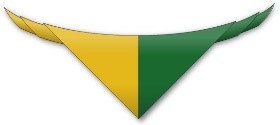 Dress Code
The various uniforms are as follows:
Beavers :             Blue Beaver sweatshirt and group t-shirt (green)
Cubs:                   Green Cub sweatshirt and group t-shirt (green)
Scouts:                Green Scout shirt
We recommend that they wear long trousers (jeans or combat trousers) and trainers. Initially they should wear a t-shirt or sweatshirt as appropriate to the weather, but after investiture should wear the uniform top and scarf.
Sweatshirts and shirts can be purchased at the district shop (Scout Centre, Pankridge Street, Crondall – usually open Saturday mornings in term time from 10am-12am)
Group t-shirts can be bought from your section leader.
Please make sure all items of clothing are clearly named.
The First Few Weeks
We recommend that new children join in the regular program of activities from the start, but be given 3-4 weeks to settle in and ensure that they are enjoying it. After this period, they will be formally "invested" in a Promise ceremony and can start wearing the full uniform. For investiture, you will need to buy them the appropriate uniform.
For investiture, they should know the appropriate Scout Promise and Motto and can make the Scout sign with their right hands. Parents are welcome to attend the ceremony.
Subs
To help cover the cost of our premises, the resources needed to run the weekly meetings and to help fund the national organisation, each Scout group makes a charge for children to attend called "Subs":
Beavers:      £35 per term
Cubs:           £40 per term
Scouts:         £45 per term
Subs get allocated roughly one third to fund national, county & district scouting, one third to fund group administration such as insurance and camping kit and one third to the section for their activities.
Administration
OSM & MyScout
The group uses an online system called "Online Scout Manager" (OSM) to do a lot of our administration, including securely holding contact and medical details for your children.
There is Parental Portal login to OSM which allows you to see your child's programme, events and badge progress. It also allows you to edit the personal information we hold for your child. Payment of Subs and other ah-hoc charges are made securely online via this system.
It is your responsibility to keep information accurate and up-to-date.
You should receive a link to the Parent Portal when your child first starts with a section. Please login, check the basic contact details we'll have entered and update the other fields for emergency contacts, doctor's and additional information.
Gift Aid
Please ensure you complete the Gift Aid declaration in the Parent Portal.
It is very important that we claim as much gift aid as possible as it contributes over £4,000 to the groups funds each year as a pure tax rebate. If you have any queries, please contact our gift aid co-ordinator Stephen Davis .
100 Club
To help support the group and our fundraising efforts for the new HQ please consider membership of our 100 Club. For a chance to win cash prizes for just £1 a month, just complete the form and give it to your child's leader. Our 100 Club co-ordinator Emma Evans will do the rest.