The Group has introduced a Rebuild Badge that our Young People (YP) can earn through a mixture of personal fundraising and/or helping with a 1st Crookham organised fundraising event as we start to introduce them back into the programme. They need 5 points to earn the badge gained by either personal sponsorship (Beavers £10 a point, Cubs £15 a point, Scouts £20 a point) or helping at an event (1 point). These points can be accrued as the Young Person moves through sections, so efforts will be recognised over time.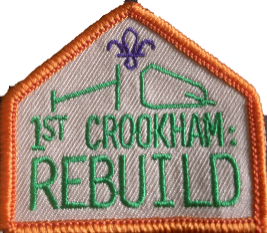 Our YP can also make any significant fund-raising effort their elective Personal Challenge Award in agreement with their section leaders.
Everyone can come up with imaginative ways to raise funds; bake sales, sponsored litter picks, washing cars for their family and neighbours, a sponsored silence and so on.
Download the generic sponsorship form to be used for recording any personal activities. Actual donations can be made online via our CAF Donate page (and will actually be the preferred COVID friendly method for the moment) but cash or cheque donations can also be recorded on the form to allow eventual Gift Aid to be claimed.