Relive Rob's exploits via his GPS tracker share.garmin.com/XV4DS and his personal blog
He's done it! In 2021 Rob Harborne completed the 3,000 mile Continental Divide Trail from Canada to Mexico through the Rocky Mountains of Montana, Idaho, Wyoming, Colorado and New Mexico. Challenged with a pandemic & initial border crossing issues getting into USA, five months of hiking & some dodgy toes!
His endeavours have inspired our young people back home with all 3 sections, Beavers, Cubs & Scouts completing sponsored hikes.
The trail encounters some of the most dramatic and wild landscapes of America as it traverses the Great Continental Divide, which separates the watersheds that drain into the Pacific, Atlantic and Arctic Oceans. One of the world's greatest long-distance trails, the CDT is the highest, most challenging and most remote of the 11 National Scenic Trails of America. All this is part of fundraising efforts for our new Scout Hut .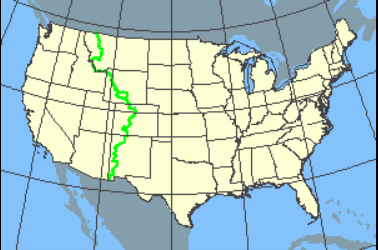 Rob said "The plan was to hike the CDT from July to November and use social media and an online blog to report my progress. Hopefully, this will raise awareness of our plans to rebuild the Scout Hut and generate some funding at the same time". To prepare for the hike Rob trained in the Cotswold Hills, Pennines and South Downs. "That should prepare me physically", he says "but mental preparation is just as important – I'll be in the wilderness and away from friends and family for a long time. Everything that I need I'll have to carry on my back and I may not see another person for days at a time. It's quite a challenge and I hope I'm up to it!" 
In 2018 Rob hiked the 2,650 mile Pacific Crest Trail in the USA, going from Mexico to Canada through the mountains of California, Oregon and Washington State and raised over £1,000 for our HQ Rebuild fund in the process.